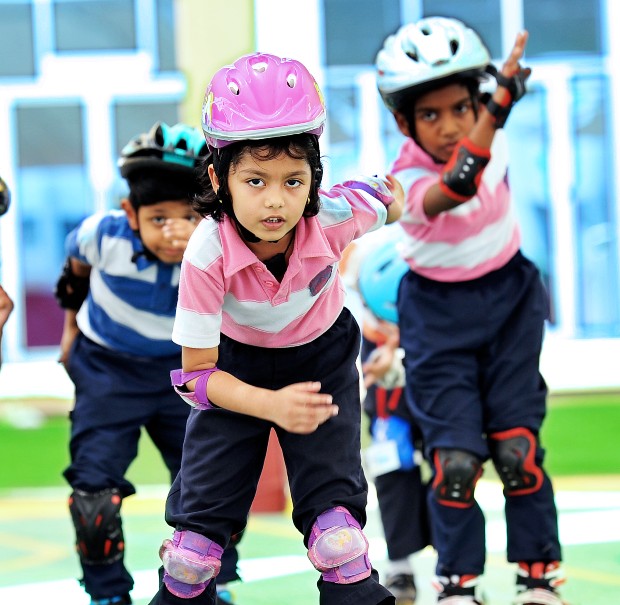 Extra-curricular Activities
Developing skills in new ways
A rich variety of co-curricular activities contribute to the overall development of the child, while at the same time, making school life an enjoyable experience. The school offers a well-balanced and graded programme of physical education, which develops a sense of team spirit and healthy competition among the pupils.
Children are encouraged to express themselves as we foster their creativity. They learn to appreciate the various art forms and in the process, have fun.
The Performing Arts
Expression in Song
Expression in Song is a musical project where children are taught and sing songs based on suitable themes. This helps build confidence and gives the children exposure on stage.
GEMS Legacy School hosts an annual music festival to encourage and develop confidence and artistic talent in the children. While an element of healthy competition has been introduced, this festival promises to give children an early exposure to a charming, uninhibited theatrical experience.
Creative Communication
Expression in Verse
Elocution is a powerful tool. The school conducts elocution at assemblies, in small class groups and at school events and productions. Students take great pleasure in reciting their poems with style and fervor.
We use it to bring out meaning in speech, to improve pronunciation and to express humor. Not only does the activity give the children confidence and presence of mind, but it also helps their leadership skills with clear and fluent speech.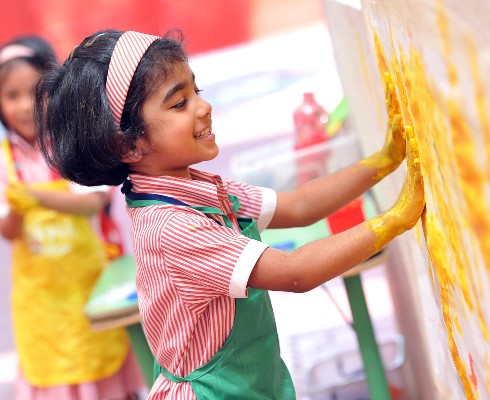 The Visual Arts
Expression in Colour
Besides the performing arts, children have ample opportunity to nurture their skills and talent in drawing, painting, and handicrafts.
An art exhibition is held at the end of every academic year and the corridors come alive with vibrant colours bringing out the best in art and craft.
Sports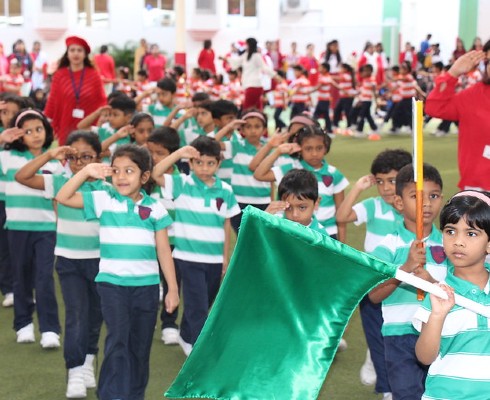 Presence of body and mind
Growing in every way means training the body as well as the mind. Physical Education is, therefore a vital part of learning.
Through various sports and games, GEMS Legacy School strives to instill a healthy sense of competition, discipline and sportsmanship.
GEMS Legacy School Annual Sports Day is always focused on a theme. Most of the drill displays performed by the students reflect interesting aspects of this theme.
Budding athletes are encouraged to pursue their talents.
Inter- School Music Festival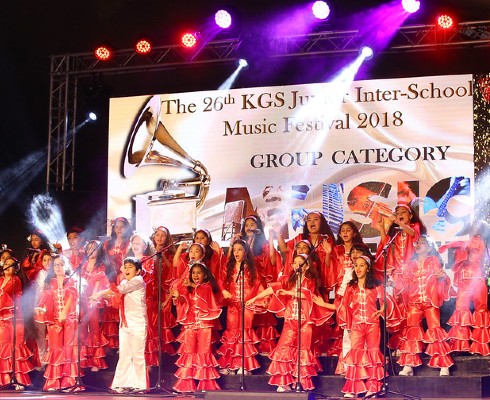 GEMS Legacy Schoolhosts an Inter School Music Festival to encourage and develop confidence and artistic talents in the young students. This event is conducted on the 24th October every year and involves students of many Primary Schools.
While an element of competition has been introduced, this festival promises to give children an early exposure to a charming uninhibited theatrical experience.
Inter - House Quiz Competitions
The Inter-House Quiz competitions are conducted for Grades 1 to 5. Along with fun and excitement, such events help to develop healthy competition.
Care Taker Service
The Care Taker Service is specially designed for the students of KG I and KG II. It is a well-organized, pre-planned play way program from 11:30 a.m. to 1:30 p.m. where the child is involved in creative Art and Craft, Story Times, Movie Sessions. The children also have loads of fun in the play area.
Gallery of our Activities