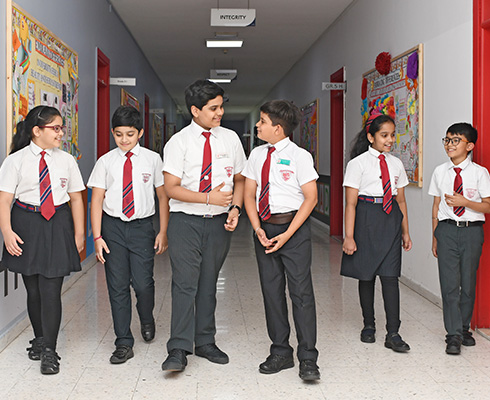 Middle School Curriculum
Building and nurturing empathy and adaptive thinking
Inspired by the Problem-Based Learning and Design Thinking Approach
The Middle School Enhanced CBSE Curriculum is internationally benchmarked and is strengthened by local and global dimensions. It aims to empower students to develop knowledge, skills, competencies, values, attitudes, and dispositions that promote collective social responsibility, sustainable development, and world well-being, thus reflecting global citizenship. The middle school curriculum is designed to holistically develop learners in all dimensions of their life—spiritual, moral, cognitive, emotional, imaginative, aesthetic, social, and physical, in a diverse and intellectually stimulating environment, thus preparing them for the responsibilities and experiences of adult life.
The wide and innovative curricular/co-curricular choices and alternative curriculum options in the Middle School offer a plethora of opportunities to personalize learning to meet the needs of all learners. With the seamless integration of inter-disciplinary learning through Space research and Astronomy, STREAM (Science, Technology, Research, Engineering, Arts, and Math), students are equipped with transferable skills and competencies required for jobs and challenges of the future.
Students experience real-life discovery learning through simulations, problem-solving, internships, career pathways, and real-life applications of financial and entrepreneurial strategies. They are presented with the opportunity to learn through the Harvard Project Zero thinking routines that enable them to synthesize their thinking, uncover complexities, consider multiple perspectives, and reason with evidence. This makes student thinking explicitly visible and profound.
The students collaborate as global revolutionaries to design solutions to real-life problems through the Design Thinking Process. The curriculum is tech-enabled and incorporates Robotics and Artificial Intelligence, fortified by Digital Citizenship and Common Sense curriculum principles, thus equipping all students with the future fluencies required as 21st-century learners. Students use several high-quality e-resources such as Science Fusion, Math in Focus, HMH - Houghton Mifflin Harcourt, Asafeer Arabic Reading Program, Edu-Islamic, Raz Plus, Gamification, Achieve 3000 and Mind Spark to further stimulate their thinking. Student learning in Science and Math is scaffolded by the use of practice books such as Math in Focus and Thinking Classrooms to promote higher-order thinking.
As per the new Indian Education Policy, 2020, innovative integration of arts in the curriculum through artful thinking has been introduced to propel students' lateral thinking, creative thinking, and design skills. Games and sports in the Middle School Curriculum play an integral part in fortifying students' physical and mental health preparing them for future challenges and taking care of their personal, social, and emotional well-being. The focus of learning in middle school is to promote Mastery Learning of concepts so that all students perform to and beyond their potential taking responsibility for their learning.
Subjects in the Middle School:
• English
• Mathematics
• General Science
• Social Studies
• Arabic
• Second Language - Hindi or French or Malayalam or Tamil or Urdu
• Islamic Studies (for Muslim Students Only)
• Moral Education
• Art
• Performing Arts ( Music- Western Music, Hindustani Music or Tabla and Dance: Kathak or Bharatnatyam )
• Physical Education
• ICT, Robotics and Artificial Intelligence
Our well-thought out extra-curricular provisions for Middle School include TED Talks, Group Games, Robotics, Space Clubs and Reinforcement of core subjects.