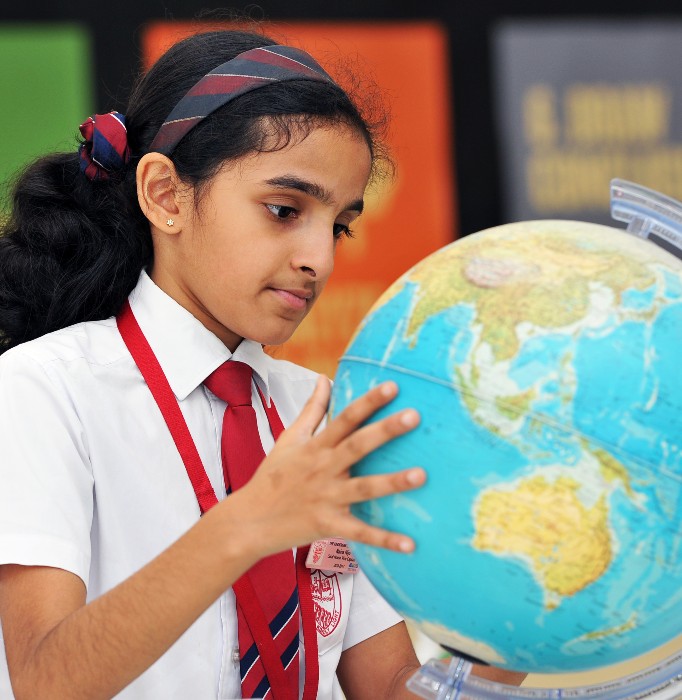 Primary Curriculum
Development of positive attitudes and healthy habits
Welcome to Primary School at GEMS Legacy School Dubai
Inspired by the Experiential Learning and Visible Thinking approach
The GLS primary curriculum aims to provide a broad and profound learning experience and encourages a rich variety of approaches to teaching and learning that cater to the different needs of individual children. The primary curriculum is designed to nurture the child in all dimensions of his or her life—spiritual, moral, cognitive, emotional, imaginative, aesthetic, social and physical, in a diverse and intellectually stimulating environment. The Primary Curriculum has been redesigned and enriched beyond the CBSE expectations to benchmark International standards and high performing TIMSS Curricula. A problem-based learning approach with meaningful cross curricular connections makes learning deeply engaging and life-long. Students are engaged in hands on LEGO and Robotics projects involving a seamless integration of elements of STEAM - Science, Technology, Engineering, Art and Math empowering students to make meaningful and life-worthy connections. Students in Grades 1 – 5 build projects using LEGO and EIE – Engineering is Elementary kits, Microbit and Minecraft, which further develop their critical thinking, creative thinking and problem solving skills. Students use high quality e-resources such as Science Fusion, Math in Focus, HMH - Houghton Mifflin Harcourt, Asafeer Arabic Reading Program, Edu-Islamic, Raz Plus, Gamification and Mind Spark to further stimulate their thinking. Students from Grades 2-5 bring their own devices and are trained for digital citizenship.
Emphasis is laid on active and deep learning, with a balance of child led and teacher led activities to promote skill development and leadership. Activities that are free and structured, individual as well as collaborative form the basis of experiential learning at the Primary.
Subjects in the Primary:
• English
• Mathematics
• General Science
• Social Studies
• Arabic
• Second Language [Hindi, French, Malayalam (Tamil and Urdu from 2021-22)]
• Islamic Studies [for Muslim Students Only]
• Moral Education
• Art
• Performing Arts ( Music- Western Music, Hindustani Music and Tabla, Dance-Kathak and Bharatanatyam)
• Physical Education
• ICT and Robotics

Extra-curricular Activities in the Primary phase include – Sports, Music, Public Speaking and Ted-Talks for Grade 5